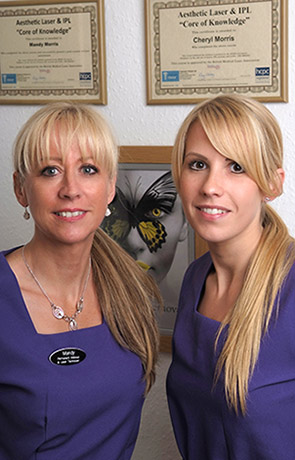 Regret your tattoo, ?? Or just plain bored with it ?
Laser tattoo removal is simple and a safe way to fade or totally remove your unwanted tattoo ,this advanced technology allows the laser light to pass through the skin and break up the tattoo ink into tiny particles , the body can them dispose of these fragments through its immune system.
Mandy Morris and Cheryl Morris are fully qualified experienced and insured in all aspects of laser ,trained by Lorena oburg Harley street London , we hold certificates in aesthetic laser and IPL core of knowledge , we use the latest q-switched Nd:YAG laser all of which meet the British medical laser association requirements.
Does laser tattoo removal hurt ?
Most client say it's like being flicked with an elastic band , for those with more sensitive skin , an anaesthetic cream can be used prior to laser to numb the area.
How long does it take to remove a tattoo?
Every tattoo is different , so the number of treatments depends on the  quality of the ink used , the depth of the ink , the age of the  tattoo and the colour of the ink , most tattoos take between 8-12 sessions to remove , although home made tattoo can be a lot less.
Can you remove all colours ?
Black and red is the easiest to remove , some greens and blues can be very stubborn.
Can any complications can occur?
Although very rare hypo pigmentation (loss of skin colouring ) can happen and more likely for people with darker skin tones.
What can I expect after each treatment ?
Usually swelling , maybe sometimes blistering or scabbing.
How often can I have a laser session ?
Each session must be at least 6 weeks apart.
What is the after care?
Stay out of the sun , you are more prone to burning for a few weeks after laser, do not cover the area with plasters or bandages , keep it clean and dry , aloe Vera gel can be applied to sooth the skin.
What happens at my first appointment?
We will run through your past and present medical history ,some medications or medical conditions could mean you are not suitable for laser , we will look at your tattoo and give you realistic expectations of removal.
Do I need a patch test?
Yes we always recommend a patch test, and the good news is the patch test and consultation are free of charge.
Laser tattoo removal prices
4×4 inch tattoo £44 for 2 sessions  4×4 inch tattoo £58 for 4 sessions
7×7 inch tattoo £55 for 2 sessions  7×7 inch tattoo £78 for 4 sessions
10×10 inch tattoo £90 for 2 sessions  10×10 inch tattoo £128 for 4 sessions
Safe
&

Professional Laser Tattoo Removal in Kidderminster, Stourport Bewdley Worcestershire

&

The West Midlands by Mandy

&

Cheryl Morris